A single mother in Florida by the name of Deven Traboscia is selling her house and herself on eBay for the low, low price of $840,000.
Did I say low price? I meant outrageous price!
In her own words, prospective buyers are paying $340,000 for her two-thousand square foot home, and $500,000 for her unknown square foot vagina — which she's already used to pop out two kids. Doesn't sound like a great deal to me.
I'm no state-licensed vagina appraiser, but at 42 years old, and after having served two active tours of duty as a human cloner, that pussy is going for about a million dollars a square foot. The warranty on that thing has expired. The elastic band on thrift store underpants are tighter than that turkey gobbler. The girl's junk would make a better shammy than a sex toy.
$500,000? In the immortal words of Gerrit Graham, "That's too fuckin high!"
I'm not here to debate this to degrees of whoredom. All women are whores. Deven Traboscia is no different.
If a woman gets money because some guy thought he was going to get laid, she's not a "clever lady businessman", or "empowered", she's just a high priced prostitute. Think about it like this: if a cop takes money from criminals who think the law will treat them leniently because of it, that cop is a criminal. He's not empowered. And if he decides to throw the book at them anyway, he's just an asshole as well. Either way, he's still a fucking criminal.
All women are whores.
What I am here to debate is price. In today's market, the only real estate going for a million dollars a square foot is located in the center of Vatican City. In today's vagina market, some old broad's junk going for that same price per cubic foot is just as absurd. The three most important things to keep in mind when buying real estate are location, location, location. The three most important things to keep in mind when it comes to buying vagina are: age, age, age. If she's over 23, don't spend a dime. If she's under 23, take her to TGI Friday's.
Girls under 23 don't know the difference between fine cuisine and fried shit.
For every decade a girl ages after 23, her value drops by 100%. That means that at 42, Deven Traboscia has priced herself $500,000 more than her market value. And don't even talk to me about condition because from I can tell she's as used as they come. Let's look at the facts. She couldn't keep at least one man happy (if the father of her children happens to be one man. It could be two!), and she failed at internet dating. Internet dating is the female equivalent of fishing with dynamite. Men on those sites are so desperate, they'll pay just for the prospect of paying for sex. If a whore can't find a steady customer to take care of her two-thousand foot mortgage payments there, then something is wrong with her.
And something always is. The only women on internet dating sites are delusional pseudo-career types who forever sit on the fence of feminism. They're too useless to commit to their jobs and earn self-reliance, and they're too arrogant to submit to a man and earn happiness. Quote the shit out of that last sentence because is the very nature of women.
You can call it chivalry, you can call it romance, you can call it "true love", but what it really is is the exchange of money for sex. Period.
Without whores, men would never get laid. No man alive is immune to it. If you think you are, try getting laid by doing absolutely nothing. Be a nobody, spend no money, and don't do anything to show you "care". As a man, your time and your labor are money. You trade them for money from 9 to 5, and when you trade them to impress some dozy bitch, you're paying for that pussy with something called Opportunity Cost. While you were listening to how much she "wants to be a veteraniarian" or how much she "wishes her stuffed animals could talk to her", you could have been curing cancer or becoming a rock star. You gave that up to get laid.
And nothing is wrong with any of that! Unless the money being exchanged is $500,000 more than it should be! There's nothing wrong with prostitution, but there is something wrong with overpaying.
If you read Deven's justification for this promotional sham, you'll find that she intends to hold out for "true love". In woman terms, that means she reserves the right to put out until a yet to be determined sum is negotiated — and then paid. In man terms, she's a fucking cocktease. Buyer beware!
That "spark" women are always complaining about is the actuation of a woman's sex drive as a function of how much money and time she thinks she can get out of you and still stay within her personal comfort level of fraudulent behavior. In business, we call that market research. "Chemistry" is nothing more than subconscious market research done by the most devious salesmen the world has ever known: women.
Who else but a woman could sell dry roast beef years past it's prime for $500,000 and still keep a straight face?
If any of you are thinking of bidding on Deven's vagina (and house), I have this advice. Wait a few years and hit her fourteen daughter up for some of that "true love". The apple never falls far from the tree; especially when that apple sees her father two days a week.
All women are whores and they all hate sex. You don't have to like your job to get it done. The only miners I ever saw whistle while they worked were cartoons.
UPDATE 6/28:
The Sun Sentinel has changed Deven's picture to one that makes her look less wrinkled. Here is the original.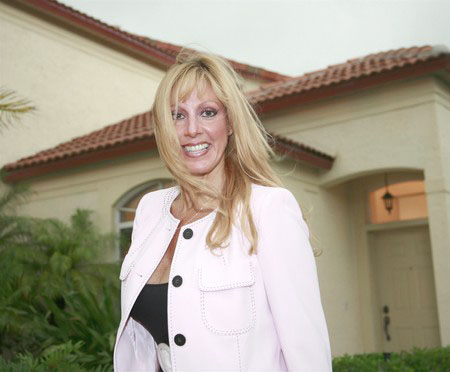 UPDATE 6/29:
Please disregard my earlier advice to wait for Deven's daughter to become available. It was just brought to my attention that she looks like a bargain bin transsexual.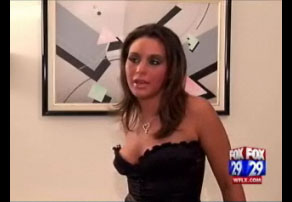 Whore Sells House
The Original Craigslist Ad