Posted in
Science Says...
on October 15th, 2008
This article also marks my appearance in the SuperFrat/Dick Masterson cross-over comic, as the world's first Chauvinist Detective. Check it out for more reasons why thinking that women are shit at everything is a good idea.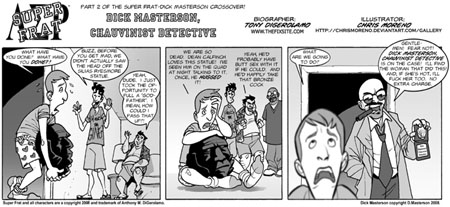 While on Dr. Phil, I offhandedly referred to my work as the Art of Chauvinism. Little did I know how brilliant that was.
The Art of Chauvinism is the application of one simple universal principle: Men Are Better Than Women. It's true from the day we're born to the day we die. It's true in every single facet and function of life. It's true for the smallest of insects to the largest of professional wrestlers. Peacocks are better than peahens, men are better than women at loading a dishwasher, and Mars is better than Venus. If you spend enough time on Venus, your fucking face will melt off.
Chauvinism solves all of life's mysteries and it will get you laid. But here's something I bet you didn't know. Chauvinism is also guaranteed to make you more money! [Read more]