Look closely at the above picture and see if you can find my addition to a memorial constructed in honor of North Hollywood's most accomplished daughter, Amelia Earhart. Most accomplished daughter, that is, who didn't use her vagina to earn her place in the books.
Real female accomplishment takes the form of Melinda Gates, Hillary Clinton, or Paris Hilton. No one paid $49.95 to see Paris Hilton read a map. Melinda Gates isn't worth billions because she dreamed up Microsoft Bob. Women accomplish with their cunts, not their brains.
In case you missed my addition, here's a better picture.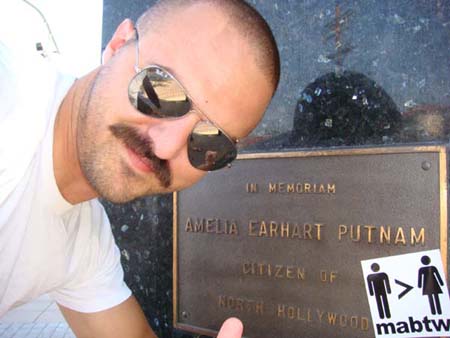 Men Are Better Than Women stickers are on sale in packs of 5 for $5, 15 for $10, and 50 for $25. Use the PayPal buttons below to get yours and send your best work to [email protected]
*MABTW Stickers are intended for personal entertainment purposes only. Use of MABTW for illegal acts including harassment and vandalism is prohibited. Any indication contrary to this is coincidental, intended as humor, or has been staged.
5 Stickers for $5
15 Stickers for $10
50 Stickers for $25